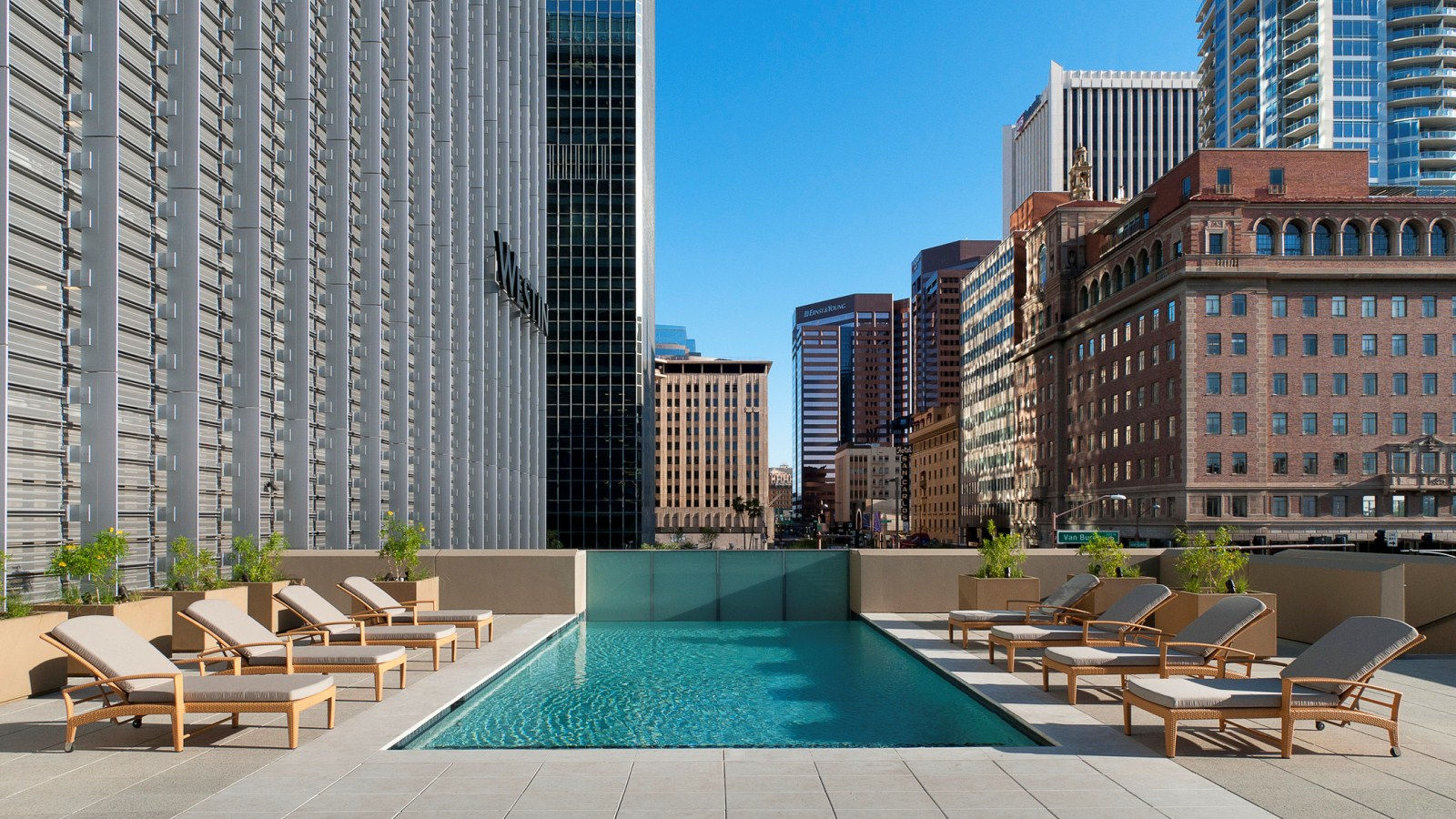 The Westin Phoenix Downtown features spacious guestrooms and meeting spaces all with dramatic floor-to-ceiling windows and views of the city and surrounding mountains. These spectacular Sonoran desert and city views can also be admired from the hotel's rooftop outdoor pool. Located on the second level, the Lapis Pool Terrace offers serenity as the pool's cascading waterfall flows elegantly onto the patio of the hotel's restaurant, Province.
The Lapis Pool Terrace measures 1,180 square feet and is a true oasis in the heart of downtown Phoenix, allowing guests a chance to refresh and reenergize during their stay. From the comfort of a lounge chair, guests can indulge in a snack or a beverage to make the most of an urban rooftop pool escape. The saltwater pool measures 16'x28' and is heated to a soothing 85 degrees during Arizona's cooler months. Flanked by beautiful oversized planters and a sprinkling of desert floral, the Lapis Pool Terrace setting will surely relax any traveler!
Additionally, the Lapis Pool Terrace provides a unique outdoor setting for a social function or special event. In the evening, the glow of an illuminating pool under a star-filled sky provides an enchanting backdrop for any soiree. The Lapis Pool Terrace can be tastefully set up for a social function for up to about 120 people. Learn more about meetings at the Westin Phoenix Downtown.
The Vibe: The Lapis Pool Terrace is perfect for the business traveler in need of a refreshing escape from a day of intense meetings, a social function, or simply from a guest seeking a dip in the pool during a leisurely escape to downtown Phoenix.
Hours of Operation: The hotel pool is open year-round. Hours are about 5 a.m. to 10 p.m., but can vary seasonally. The pool is exclusive to hotel guests.